Owl Creek Farm SA Halloween Haunted Hike
Come have a Halloween Haunted Hike in San Antonio   
Open Every Friday and Saturday in October
Daytime Hike Dates: 
Every Saturday and Sunday in October, 2020
11am - 3pm
Ticket Prices: $5 per person
Night ike Dates:Every Friday and Saturday in October 2020
8:00pm - 10:00pm (first three weeks of October)
7:00pm - 10:00pm (last two weeks of October)
Ticket Pricing: $10 per person
We have pony rides, petting zoo, toddler hay maze, hay ride, corn crib, and play area.
Masks if you are in line and can't social distance. We are disinfecting play equipment and saddles and tables every hour. Plenty of sanitizer and soap is available.
We open tomorrow. We will have more pumpkins next weekend. We will be open on Fridays starting next week. 4-7 The following week we will be open Wednesday 9-1. Let me know if you think I missed anything!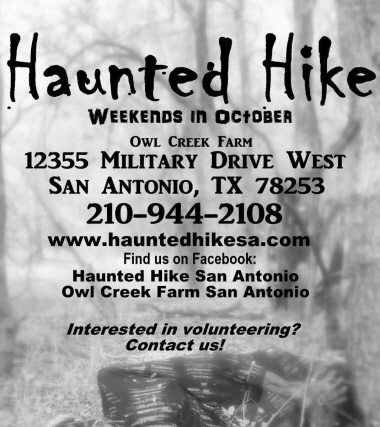 Visit : www.hauntedhikesa.com